ANCEL AD310 – From An Auto Mechanic's View
ANCEL AD310 – From An Auto Mechanic's View

Is your check engine light on? Do you want to discover the problem but don't know which scanner suits you?
Worry no more. The ANCEL AD310 OBD2 Scanner will tell you what's ailing your vehicle without involving a mechanic.
ANCEL AD310 OBD2 scanner is a handheld device that quickly reads and clears diagnostic trouble codes. The ANCEL AD310 will investigate engine-related problems and also collects your vehicle's information. Furthermore, this scanner can check if your car is ready for a smog test or not.
In this article, I am going to give you a thorough view of this handheld scanner.
Let's dive into it.
ANCEL AD310 OBD2 Scanner Review
The ANCEL scan tools in general and the ANCEL AD310, in particular, are your friends when the check engine light comes up. It's small but mighty, so let's skip to all you need to know about this device.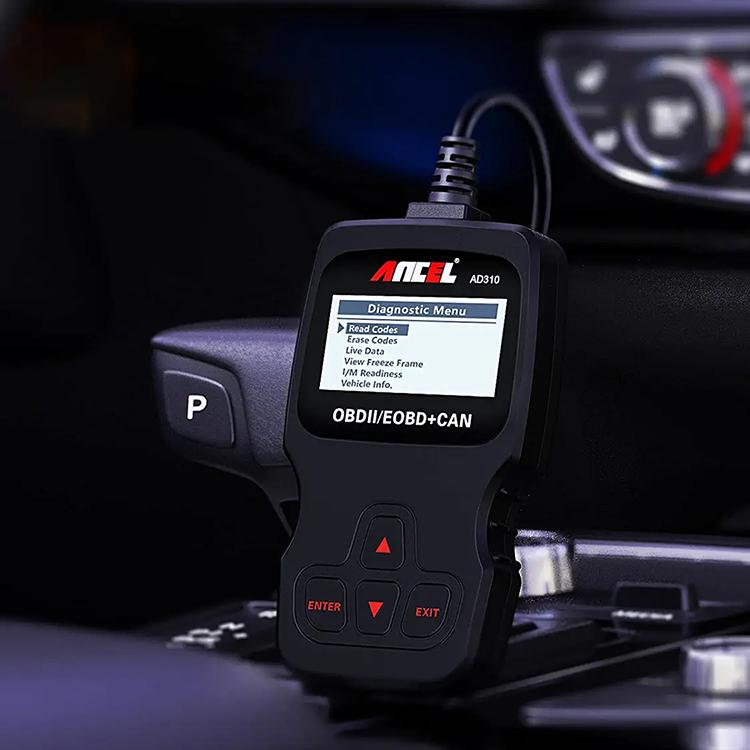 ANCEL AD310 OBD2 scanner is a handheld device that quickly reads and clears diagnostic trouble codes.
Price
ANCEL AD310 is reasonably priced. It has a host of features that would cost more if you were going for other renowned ints like Innova and Autel.
Ultimately, ANCEL gives you a diagnostic scanner that you can use right out of the box without any prior diagnostic knowledge. Isn't it incredible?
Vehicle Compatibility
The ANCEL AD310 OBD2 device works with 1996 and newer US cars, 2000+ European vehicles, 2005+ Asian cars, light trucks, and SUVs. In addition, it supports newer OBD2 and CAN vehicles.
This scan tool supports up to seven OBD2 protocols such as ISO9141, J1850 PWM, CAN, KWP2000, and J1850 VWP.
Now, it's always a good idea to check whether your vehicle is compatible with the ANCEL AD310 before purchasing it.
Performance
ANCEL AD310 is a highly functional tool for everyday vehicle diagnosis. When you receive this gadget, connect it to the OBD2 connector in your car. Next, the device will turn on instantly and prompt you to turn on the ignition.
Go ahead and switch on your car, then touch any key. ANCEL AD310 automatically scans for codes. It can read and erase trouble codes, show live data, view freeze frame data, I/M readiness, and vehicle info.
At this point, ANCEL AD310 can see the stored codes and pending codes. If you have trouble codes, the scanner will give you a brief description of the problem. You can work on repairs once you have the code instead of looking it up.
After you perform repairs, clear the codes, which will turn off the check engine light.
Warranty
The ANCEL AD310 is covered under a one-year warranty from the day of purchase. The company covers any faults and defects in its working that are not due to the user. ANCEL will remedy any defective parts or replace your ANCEL AD310 device if it falls under the warranty stipulations.
To this end, you can't have it replaced because of damages that occur when you use the device for purposes it is not intended for. In addition, it is advisable to use it per the manual instructions to avoid damaging the product.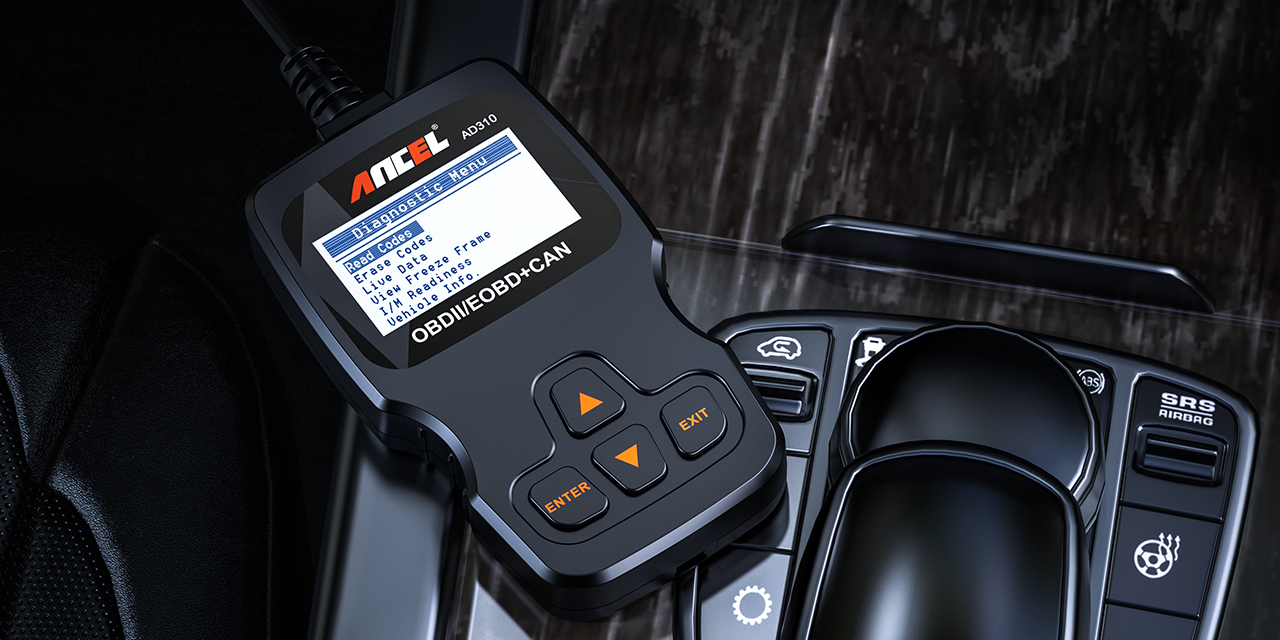 ANCEL will remedy any defective parts or replace your ANCEL AD310 device if it falls under the warranty stipulations.
Outstanding Features
Live Data
ANCEL AD310 can access your vehicle's sensors and display live data from various car functions. It will give you a better idea of the intricate details of your car, which helps narrow down the exact problem.
ANCEL AD310 will show you the status for:
● Fuel system
● Engine coolant temperature
● Vehicle speed sensor
● Throttle position
● Load percentage
● Spark advance
● Oxygen sensors
● Short-term fuel trim
● Manifold absolute pressure
● Intake air temperature
Sturdy and Lightweight
ANCEL AD310 OBD2 scanner has a hard, plastic shell. It is not only durable but also sleek. The scanner's cable is 2.5 ft. long and is insulated. Thanks to the cable's length, you will comfortably sit in the driver's seat while performing the diagnosis without pulling on it.
ANCEL AD310's compact design means transporting it is stress-free.
Easy to Use
ANCEL AD310 has four well-labeled buttons. Therefore, navigation is a breeze even for newbies. You don't need a user manual to know what "ENTER," "EXIT," "UP," and "DOWN" buttons do. Again, the buttons are rubber, and the prints seem like the device will need to take a beating before they ever come off.
The 2.5-inch LCD screen is readable in the sun. It's unlike most lesser-known scanners in this price range that come with 1.7-inch screens. Moreover, I've always struggled to see LCD screens on most budget scanners when fixing cars outdoors.
Another useful feature of the ANCEL AD310 is that it supports eight languages. These are English, German, Spanish, French, Finnish, Dutch, Russian, and Portuguese.
Accurate Results
ANCEL AD310 scanner provides fast and accurate results. It helps you read and eliminate engine trouble codes in just a few steps. All other vehicle metrics, like live data, are up to the minute.
In addition, the scan code descriptions are also useful. The device strives to provide helpful information to guide you into finding and fixing your vehicle's issues.
No Need for Battery
ANCEL AD310 gets its power directly from your car's OBD2 data link connector. It's not a scanner that will drain your battery when you leave it on. Once you stop using the device, leaving it connected does not impact your battery.
AD310 is a great OBDII scanner with lots of outstanding features.
What I like about ANCEL AD310 OBD2 Scanner
The most impactful element of the ANCEL AD310 is that it's reasonably priced. No well-known brand has an equally capable OBD2 scanner under $50. Seeing that you can get the ANCEL AD310 for a couple of bucks is fascinating.
ANCEL AD310 fits perfectly in hand. It has grooves on the side where the hand lands for comfort. It can be a small feature, but you can use it for extended periods.
I'll never have to remember to recharge it, and I can leave it in the car without worrying that it can drain the battery.
What's more? it takes roughly 15 seconds to look up the error codes that you are encountering.
Besides, I've checked whether my car is ready for a smog test just before driving to the DMV.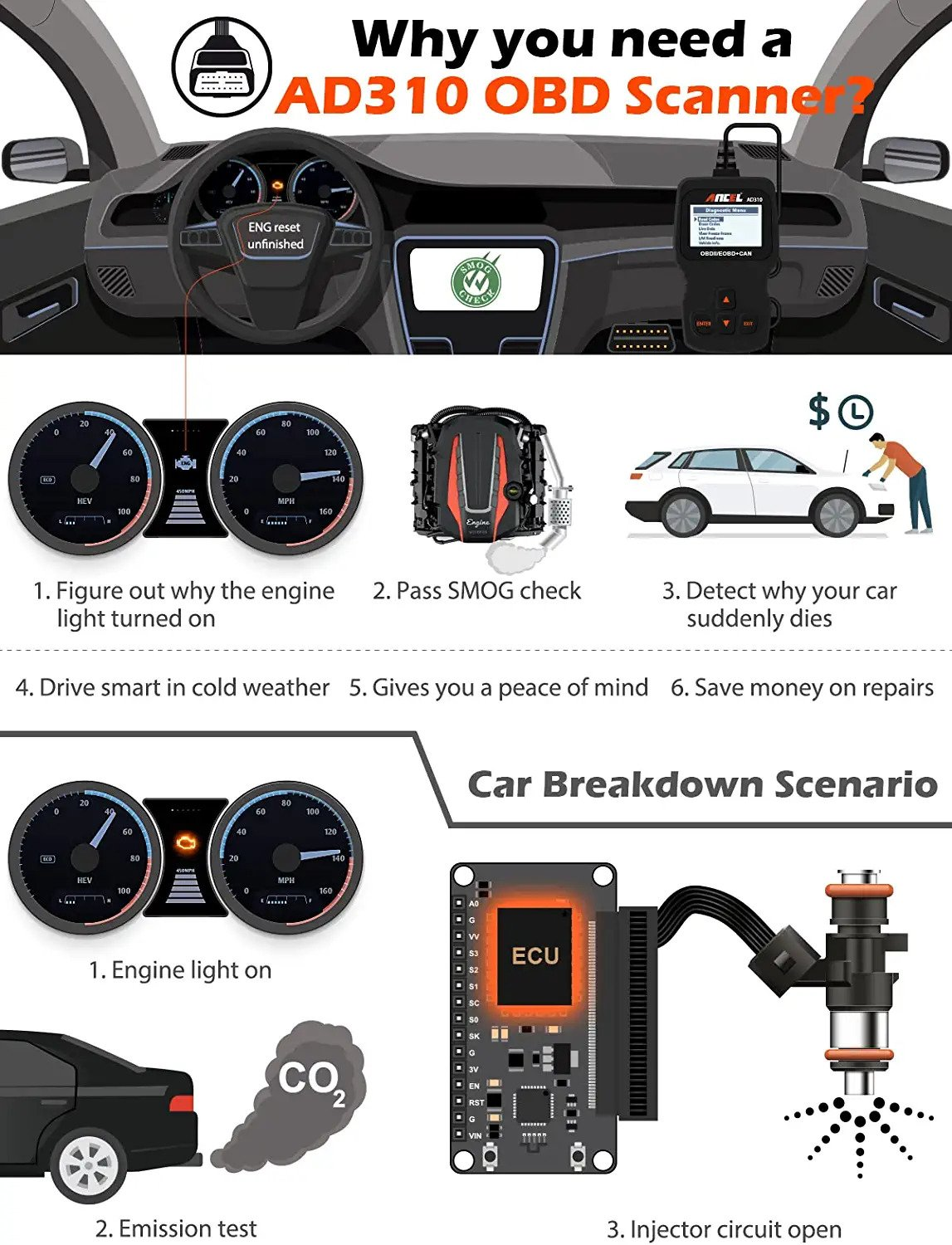 What I don't like about ANCEL AD310 OBD2 Scanner
I find the manual a bit hard to follow because of the small font. In addition, I've wished for a larger screen when the DTC explanation is too long that it trickles into the next page. The back and forth to read the explanation is unwarranted at times.
Bottom Line
If you're out to get a diagnostic scanner on a budget, ANCEL AD310 nails the staples. Anyone can get started in automotive diagnostics and climb the ladder using it as a baseline. All the ANCEL AD310 functions are clear, plus it's fast and accurate. With the capability to view stored and pending codes, live data, I/M readiness, freeze frame data, and vehicle information, I bet you'll always reach out to this model whenever you suspect something in your car is amiss.
---
Author Biography
I'm Tim Miller, an automotive mechanic, and blogger from Denver, Colorado.

I'm the Editor-in-chief of obdadvisor.com.
My fan page is facebook.com/autozikcom.
I've had over 15 years' experience in car repair and using OBD scanners.
My reviews and articles about car repair and maintenance can be found on my own websites.